Thailand religion
Thailand religion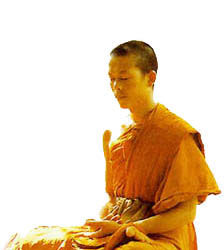 Throughout its history, Thailand has been characterized by its tolerance for alien religions and beliefs. Although census records that 94% of its populace are Theravada Buddhists, the country has always extended religious freedom to its subjects. Of the remaining 6% of the population, 3.9% are Muslims, 1.7% Confucianists, and 0.6% Christians (mostly hill-tribe people living in the north). Though the King is the designated protector of all religions, the constitution stipulates that he must be a Buddhist.
Buddhism, as practiced in Thailand, is not the other-worldly religion of Western conception. Here, ultimate salvation or nirvana, is a distant goal for most. Thai Buddhists pursue the law of "Karma". Meritorious acts are undertaken and demeritorious ones avoided so that one's future life may be improved. This is the law of cause and effect.
It is also important to draw a distinction between 'academic' Buddhism, as it tends to be understood in the West, and 'popular' Buddhism, as is practiced in Thailand. In Thailand, Buddhism is a 'syncretic' religion that incorporates elements of Brahmanism, animism, and ancestor worship.
One reason for Buddhism's strength is that there are few Thai Buddhist families where at least one male member has not studied the Buddha's teachings in a monastery. It has long been a custom for Buddhist males over 21 to be ordained for a period ranging from 5 days to 3 months, at least once in their lifetimes. This usually occurs during the annual Rains Retreat when all monks forego travel and stay inside the monasteries.
Besides sustaining monastic communities, Thai temples have traditionally served other purposes such as the village hostelry, village news, employment and information agency, school, hospital, dispensary, and community center. This gives them vital roles in the Thai society. In fact, the surprisingly high literacy rate in Thailand before universal education was introduced was explained by the presence of temple education.
Today, the Thai government still allows civil servants to take leave, on full pay, to enter the 'monk-hood' for 3 months!
While roughly 95% of the Thai people are practitioners of Theravada Buddhism, the official religion of Thailand, religious tolerance is both customary in Thailand and protected by the constitution. By its very nature however, Buddhism, which is based on the teachings of the Buddha, "the enlightened one" (nee Siddhartha Gautama), is a compassionate and tolerant religion, the aim of which is the alleviation of suffering. Consequently, Thai people are very respectful of the religious beliefs of others and are very open toward discussing their Buddhist values with visitors. In fact, there are many opportunities in Thailand to visit Buddhist temples to learn about or study Buddhism and perhaps to learn to meditate.
Religion in Thailand pervades many aspects of Thai life and senior monks are highly revered; it is not uncommon to see their images adorning walls of businesses or homes or upon ornaments inside of taxi cabs. In many towns and villages the neighborhood wat (temple) is the heart of social and religious life. Buddhist holidays occur regularly throughout the year (particularly on days with full moons) and many Thai people go to the wat on these and other important days to pay homage to the Buddha and give alms to monks in order to make merit for themselves.
Meditation, one of the primary practices of Buddhism, is a means of self reflection in order to identify the causes of individual desire and ultimately alleviate ones suffering. Visitors can learn the fundamentals of this practice at a number of wats across the kingdom. Some temples, particularly in Chiang Mai, allow visitors to chat with monks in order to gain general knowledge about Buddhism or to study Buddhism more seriously.
While Theravada Buddhism may technically be considered a philosophy rather than a religion (there is no 'God') Thai Buddhism is infused with many spiritual beliefs which are likely the result of lingering animist and Hindu beliefs from centuries earlier. Most Thai homes and places of business feature a 'spirit house' just outside the building, where offerings are made to appease spirits that might otherwise inhabit their homes or workplaces. Furthermore, Buddhist monks are often brought to new homes and businesses to 'bless them', and Thai people frequently light incense and make prayers to both Buddha images and a host of Hindu gods whose shrines are located throughout Bangkok and the countryside.
The next largest religion in Thailand, Islam, is practiced by only about 4% of the population; the majority of Thai Muslims live in the most southerly provinces near the Malaysian border. Other religions in Thailand include Hinduism, Confucianism, Taoism, and Christianity, which are generally practiced by those living in Bangkok, where a multi-cultural population includes citizens of Indian, Chinese, Japanese, and European descent.