Thailand Geography
Thailand Geography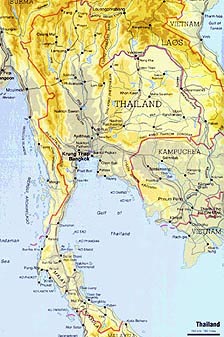 Situated in Southeast Asia, Thailand is predominantly a Buddhist kingdom almost equidistant from India and China. Known by outsiders as Siam for centuries, Thailand (the land of smiles), has been something of a Southeast Asian migratory, cultural, and religious crossroads.
Approximately the size of France, Thailand covers and area of 510,000 sq. km and has a population of 60 million growing at a rate of 1.5% each year. Thailand shares its border with Myanmar in the west and north, Laos in the northeast, Cambodia in the east and Malaysia in the south.
Administratively, the country is divided into 7 regions: The North, Northeast, Central Plains, East, West, and the Bangkok Metropolitan Region. Each of which has its own distinctive geographical character.
The central region, encompassing the Bangkok metropolitan region and the central plains, is affectionately known as "Thailand's Rice Bowl". One of the world's most fertile rice and fruit growing areas, this is the economic and cultural heartland of the Thai nation.
The mountainous north is Thailand's largest region. Here, elephants work the forest and winter temperatures are sufficiently cool to permit cultivation of temperate fruits such as strawberries and peaches.
The second largest and poorest region is the sprawling northeast. Better known as "Isan" or the "Khorat Plateau", it is largely bordered by the Mekong River, where the world's oldest Bronze Age civilization flourished some 5,000 years ago.
Just south of the northeast lies the eastern region. Sandwiched between the sea and the Damrek range, this is where pristine beaches support the growth of summer resorts such as Pattaya.
Despite recent development efforts undertaken by the government in the west, its beautiful mountains, which rise up towards the Burmese border and its lush valleys remain relatively unspoiled. The towns here have a frontier atmosphere.
Last but not least, the peninsular south. Here, arresting scenic beauty complements the economically vital activities of tin mining, rubber cultivation, and fishing.